One- and Two-Day Programs for All Learners
When you come to a fork in the road, take it.
–Yogi Berra
You are here because you have come to a fork in the road. You need to write better in order to pursue your personal or professional goals. You need a boot camp to master all the elements of writing. Then you need to apply those elements to your work.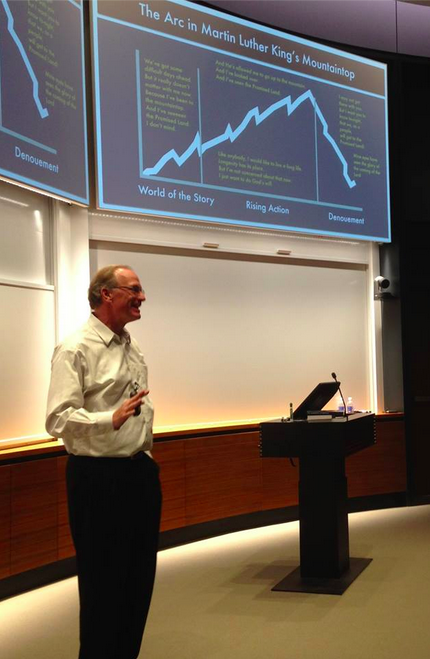 The Elements of Writing seminars offer detailed, practical, and fun strategies to write well.
The seminars usually move in two or three parts.
1. Storytelling: Humans are, above all else, a storytelling species. Narrative is built into our DNA. Every person you will meet loves hearing and telling a great story. To tap into this deep ability, we need to master specific tricks and maneuvers that great storytellers use. From narrative structure to character development, setting to action, details to surprise, great stories deploy a number of simple, intuitive skills.
2. Mechanics: When we put pen to paper, we need to master a number of mechanical skills — from building great sentences and paragraphs, getting the grammar right, editing, and writing with our own distinctive style. Most writing programs make this work abstract. We take a different approach. By understanding all elements of writing as a form of storytelling, we make these abstract challenges simple and intuitive.
3. Analysis: In school and business, strong analytic writing is central to everyday life. Too often, students and professionals alike get tangled in abstractions and fail to clarify their core problems, identify causal variables, and sort through the evidence. In The Elements of Wriuting, we begin analysis with storytelling. We show how all analysis is just a form of storytelling. Then we show how to "climb the ladder of abstraction" to create analysis that not only gets at the heart of problems but also engages audiences.
For every program, we customize all the elements of writing to your specific needs.
Take a look at some programs in our curriculum:
Writing Well in School: To understand any subject, write about it. We show you not just how to master short and long paper assignments, but also how to use writing skills to master "non-writing" classes like math and science, music and dance, and more.

Write Your Way Into (Your) Best School: Applying to college is a rite of passage for millions of high school students every year. For many, the application essay can be the "tie breaker" that makes the difference between acceptance and rejection. Step by step, we will guide this process. At the end of the seminar, you'll have a powerful draft for all your possible schools.

Writing Well in Business and the Law: In the old days, only select few professionals needed to write on the job. These days, writing is a necessity for almost all professionals. Whatever your mastery of other skills — in engineering, sales, computers, retailing, education, and other professions — writing can give you the invisible edge you need to climb the career ladder. In this seminar, we show you how to master the essential documents of the workplace — emails, memos, reports, RFPs and proposals, and PR and social media.

Mastering Major Projects: Writing a long story, a book, or a thesis is just like stringing together a bunch of short pieces, right? Not quite. Longer pieces require a different kind of planning. To create a complete piece of work, in which all the elements fit together, you need a different process. If you take the right approach, you can save hundreds of hours and untold frustration. We show you how.
How do we operate?
Every Elements of Writing seminar provides interactive, hands-on work so you not only learn the material but also master it.
Charles Euchner — a teacher and writer with 25 years of experience — teaches you all the key elements with powerful visuals and videos.
Using workbooks designed for your specific group, students actively participate. Learning is active, not passive.
All students go home with their own copy of The Elements of Writing, the only comprehensive guide to writing well.